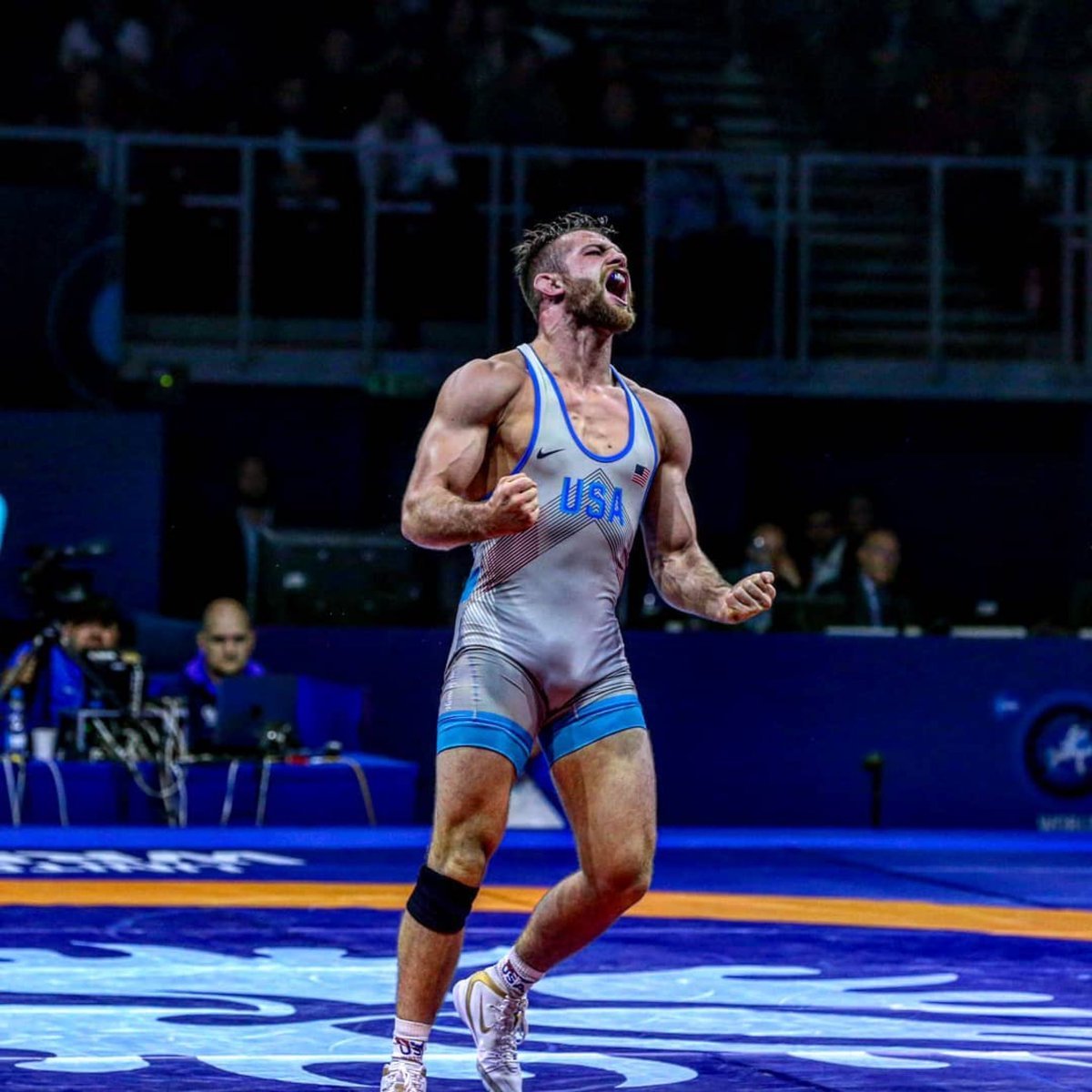 Content Count

74

Joined

Last visited

Days Won

1
Everything posted by Underhook
I hadn't considered this before but the more I think about it the more I like it. Would allow us to solve that whole "world champ on the bench problem" we have at 86/97 kg

57: Fix 65: Yianni 74: JB 86: Taylor* 97: Cox* 125: Gable *I think cox wins whichever weight he decides to go to. If J'Den drops to 86 he bumps Taylor off the team and Snyder goes at 97. I think it's more likely he's at 97 though, I seem to recall Cox saying 86 was a tough cut with the old weigh in rules, which makes me doubt he could make it with day of weigh ins

Yea well if my aunt had balls she'd be my uncle

How many people in this thread would support dropping Greco from the olympics if it meant all men's and women's freestyle weights would be included in the olympics?

After Yianni torched the field at the open earlier this year I was convinced he was our best shot to medal at 65 in years, I wanted him to make the team more than anybody else this year. I still think he might match up better with the field globally at 65, and am still picking him to win the spot for 2020. But for Yianni fans to act like USA wrestling lost out by Zain making the team is ludicrous. Zain going through the whole ordeal of winning, then the arbitration process, alleged injury deal, and then winning the wrestle off in the first match against a guy as good as Yianni proves Zain to be a contender himself. I hate to borrow an expression from basketball but... ball don't lie. I can ALMOST (not quite though) understand people not wanting to support Downey as our rep, but to see people not want to get behind Retherford is just obscene

Man, ringer could wind up being one of our best to never make a team. Tough break for the guy

I really want Dieringer to win cause he has an entertaining style of wrestling and I genuinely believe he's good enough to win a world championship at this weight, (and maybe even medal at 86) But there's that whole thing about Dake and fantasy matchups that tells me deep down he's gonna wind up taking it, probably in three tight matches. Afterwards everyone will talk about how close Ringer was, and how he's gonna be a threat at the trials for 86 in 2020. I just hope we see quality wrestling free of officiating screw ups/other chicanery, either one of these guys can bring home gold for the US

I know this isn't the college forum, but I don't want to make a new thread-gotta think this is a plus for an already improving UNC team, especially returning 3rd placer at 149 Austin O'Connor if he can get some drill time with JO

Gonna listen to the full interview later on at work, but honestly I really don't get all the hand wringing about Spencer not wrestling freestyle. I understand that he's a talent with a very legit crack at making our current lineup, but it seems to me that a lot of posters here have forgotten Spencer is entitled to his own personal goals, not just our desire as fans to bring home a medal at 57 kg. Lee can't even drink legally yet, and will be 25 by the time 2024 rolls around. Barring severe injury/other acts of god, his window to compete on the senior level will be open for years to come. At the same time, maybe Spencer has the goal of being a four timer? Not to mention his chances to be on a national champion TEAM are already halfway over. Plus the kid has wrestled about as much as humanly possible over the last five six years, and battled health concerns these past few seasons. Brands and co get a bad rep on these forums for being old school guys who are set in their ways of trying to grind through EVERYTHING, but I see them rather smartly playing the long game with Spencer by building time off into what would otherwise be essentially year round training cycles between free and folk

Forgot about Woods, he was very tough as a redshirt this past season. My brain isn't exactly up to date on what new faces will be a factor this year, I'm sure my predictions will change quite a bit by the seasons start and midpoint.

125: Lee 133: I've heard Fix and Micic will take an oly shirt, and I think we might see gross at 141 so I'll go with suriano. Gross wins if he's here 141: Gross wins if he goes here instead of 133, Nick Lee is my pick if Gross can still make 133 149: Sasso 157: Hidlay 165: Lewis 174: Hall 184: Zahid 197: Darmstadt 285: Cassar

Pulling hard for Ringer, but picking against Dake just really doesn't seem to work

Anyone else feel like green could benefit from moving up? I think the new weigh in rules have made so that 70 kg is no longer his ideal weight. He's a lanky guy with a filled out frame, and I've seen him joke about tough cuts on social media before. We saw him absolutely deplete himself making 65 under the old rules in 2016, any chance we see the opposite and green challenges at 74 for 2020? (For the record I doubt it as JB has been his long time mentor/training partner, but it would make an already interesting WTT bracket even deeper)

Wrestlers don't like wearing headgear, and I personally know a few guys who got cauliflower ear despite wearing it religiously. Most D1 guys have it by the time they walk into the practice room already. Making it optional seems like a win for all parties-fewer matches tarnished by a headgear grab, guys who want to wear it can continue to do so, while guys who are bothered by it will be free to not wear it. Seems to me the only people concerned about getting rid of headgear are mothers of wrestlers and the same over the hill fans who would bring back horsehair mats, leggings, and practicing in rubber suits if they could.

Wasn't replying to you specifically, just giving my $0.02 on the overall discussion in the thread as a whole. I agree there's really no excuse for Iowa's entire lineup to be sitting out this freestyle season, Especially someone like Cass who was great at the open. I just think I see some potential similarity in their current strategy and what PSU did a couple years ago. Ultimately, Brands does know a thing or two more about wrestling than I do, so while it's disappointing for me as a fan, I'll reserve judgement until after the 2020 season

Lee is 20, and has been wrestling basically year round in the toughest tournaments possible since probably age 12, if not younger (this is an educated guess I'm not pretending to be that familiar with his training cycle) and has had health issues the last few seasons. He's someone I think could strongly benefit from some time off. Why rush his senior level debut when he still might not be 100% and let everyone in the world get a look at him before 2020? Seems a bit high risk low reward to me. As for the rest of Iowa, I'm disappointed we aren't seeing guys like Cass, Warner, heck even Desanto doing no freestyle. But 2020 is supposed to be THE year for Iowa, and I seem to recall NLWC basically taking a freestyle season off a year or two ago in order to get ready for the NCAA grind that would be followed by the 2019/2020 worlds. All things considered, as a fan I'm disappointed we aren't seeing some of Iowa's best freestyle prospects: at the same time I see Brands and co trying to train and compete a little smarter, keep their guys healthy, and adapt methods that are a little more modern than the old school Iowa mentality of wrestling as hard as possible at all times. 2020 will be the judge

Scrapped with Cael at a PSU camp once. It went about how you'd expect it to go

If DT couldn't beat out Cox off the heels of beating Yazdani by tech at the World Cup, I don't think Bo has the stuff to get it done yet either. I expect Bo to look good, and him winning one in the best of three is not impossible, but Cox has ice in his veins. This is going to develop into an incredible rivalry, both guys are still improving rapidly. It's a great time to be an American wrestling fan! Many of our number twos are also starting to look like medal threats

I can't help but wonder how much of an effect the new weigh in rules are having on Green. I remember him making jokes about tough cutting weight on social media a few times in the lead up to worlds last year. This is obviously all speculation, and it's possible he's at his ideal weight right now, but I bet we see Green make some noise up at 74 kg after JB retires in 2020

Saw on USA wrestling twitter that Tomasello was disqualified against Gilman after being down 9-0. Anyone watching see what NATO did to get DQ'd?

Just saw a post from flo saying Byrd has officially committed to Illinois. Looks like the rich (penn state) won't be getting quite as richer in the lightweights. Good get for Illinois too. Bit of a down year for them this year so it's good to see them still landing top recruits.

I could be wrong as I did not watch his first round match, but I don't think Lewis gave up a takedown the entire NCAA tournament. Obviously senior competition is a different level, but Lewis' defense is definitely his most impressive attribute and seems to be a readily transferable skill to freestyle. He isn't a leg passer who relies on rolling across his back like a lot of other elite defensive guys at the college level-he relies on rock solid position, handfighting, and stone hips like elite international guys. Hopefully we see him in some freestyle competition this summer to get a better measuring stick of where he is exactly on our ladder. His results (and potential for more in the future) already speak for themselves, but team USA is also absolutely stacked around his weight, and freestyle seems to favor guys with high level experience over raw talent

Marinelli is just fine where he is. The idea he'd be somehow winning more at PSU is just silly. He wrestles like the guys under Gable used to, Iowa is as good a place as any. Winning nationals is just really really hard, especially at 165. This weight class has been loaded the last few years

Steveson might not have senior level accolades (yet), but he is a junior world champ, which is no small achievement on the international circuit. I don't see really any flaws with him and Minnesota taking this approach, seems like a "best of both worlds" for both sides. Gable gets to prioritize his freestyle chops in prep for 2020, Minnesota still gets big points at ncaa's/big tens/ the Iowa/psu/other marquee dual.